During my life I spent a lot of day in the beautiful setting of the Lake Iseo, swimming, sailing, canoeing, walking in cosy town and hiking on the surrounding hills.
When the Floating Piers ( a temporary  art installation by Bulgarian artist Christo ) opened I was intrigued to see it, especially after reading a comment by the artist:
"It's really a physical thing, you need to be there, walking it, on the streets, here," 
The piers appear like a yellow walking path connecting Sulzano to Monte Isola, the biggest lake's island in Europe, and the smaller island of San Paolo. It' something really cool, but to me is not that appealing as an end in itself.
I think when the artist say "you need to be there" it means you need to be immersed in the stunning landscape of lake Iseo, maybe from an unusual point of view, looking for an unordinary experience, discovering the place to it's heart.
So I choose to have a Floating Piers microadventure, bringing with me my friend Alessio, for his first night under the stars!
We decided to go in the evening in Sulzano and walk on the piers, then climb up Mont Isola, sleep somewhere and be in the office in the late next morning.
After work we met up, drived with some other folks to Iseo, had a small cold dinner just on the side of the road and then we tried to reach the Piers.
There was so many people that we missed the bus, so we hiked along part the Via Valeriana, an ancient mountain path that goes all the way from Pilzone to Pisogne, which rewards the Pilgrim with some magnificent view of the lake. We were there just in time for a fabulous sunset.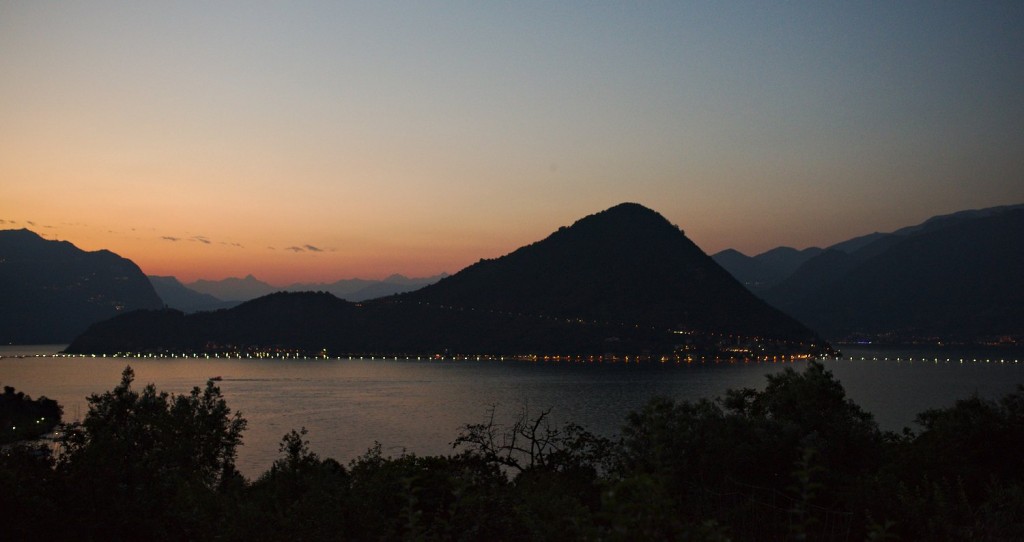 We finally made it to Sulzano, where we spent a not so exiting 3 hours ( !!! ) in the queue.
But then, walking on the water in the middle of the lake at night end up to be great, funny and rewarding.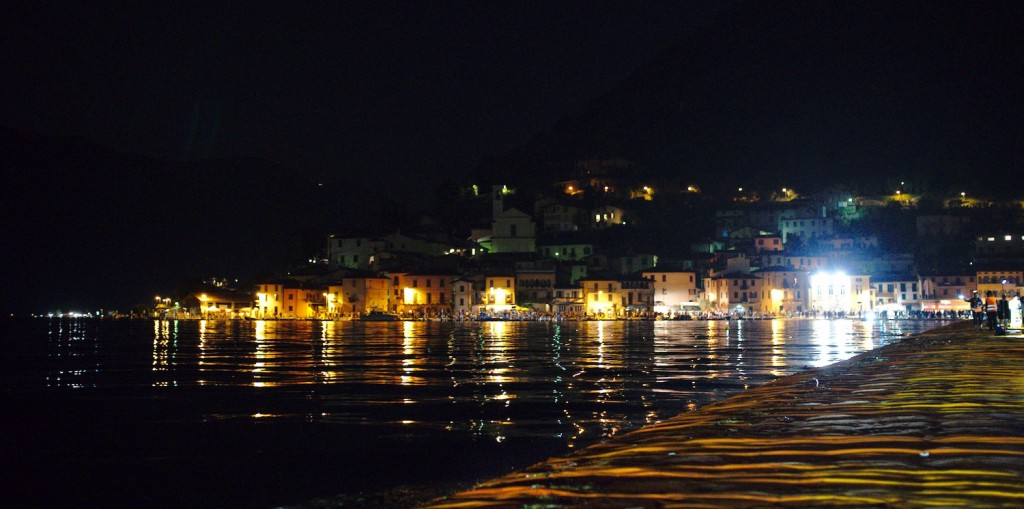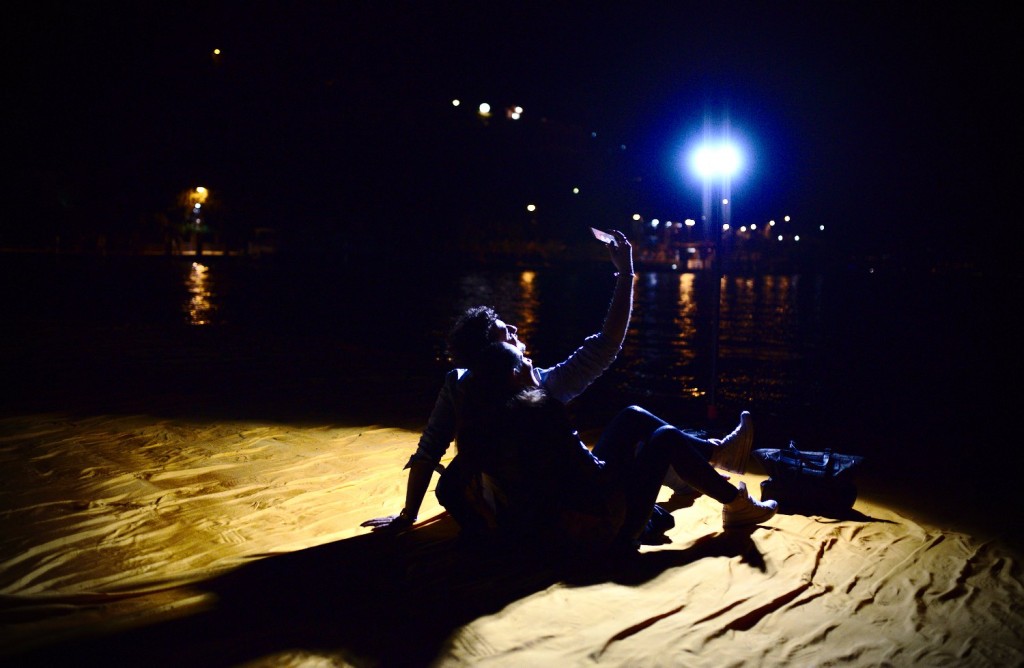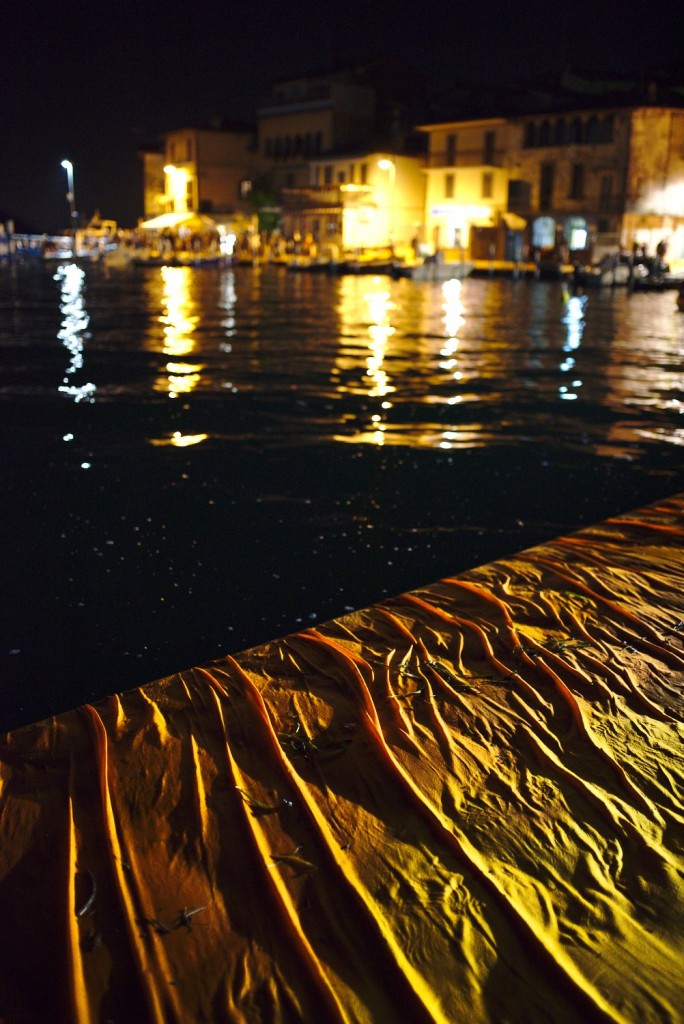 We wondered around until 3.30 in the morning, than we headed for the hills of Monte Isola, looking for a nice spot to sleep and leaving the crowd behind.  An olive grove overlooking the lake offered us a perfect shelter, where we rolled out our sleeping bag and stared at the stars until we fallen asleep.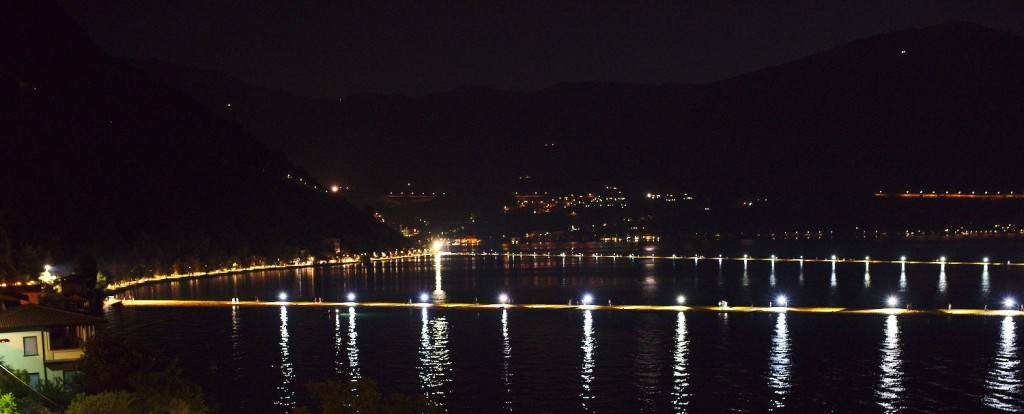 A gentle breeze lulled us all night long.
We woke up at sunrise, had a hot cup of tea and some fruit sitting in the grass, looking the sun that slowly filled the valley of a worm light.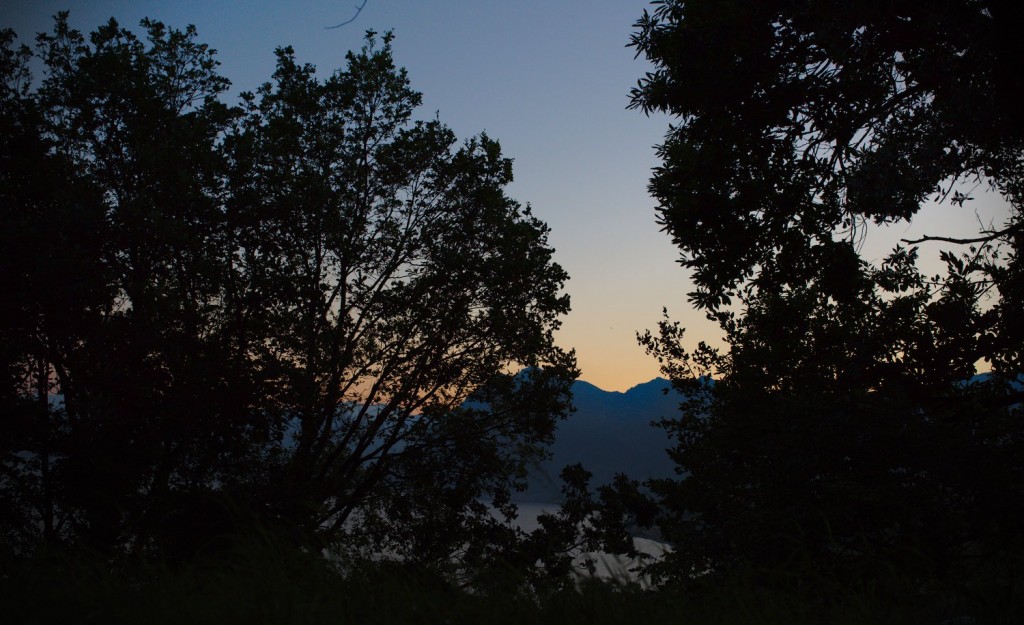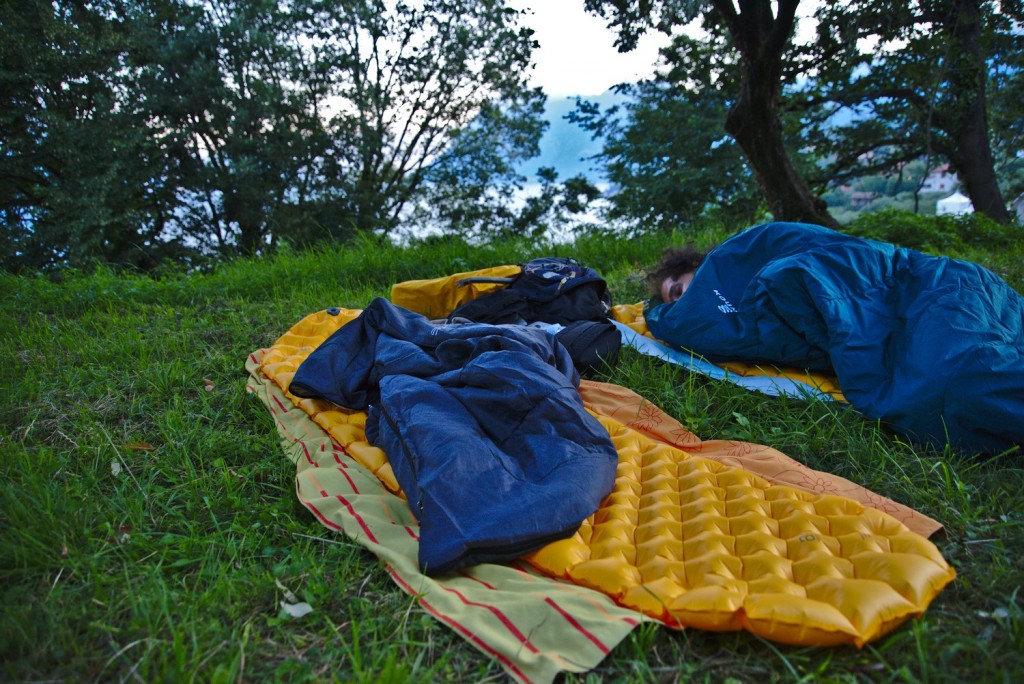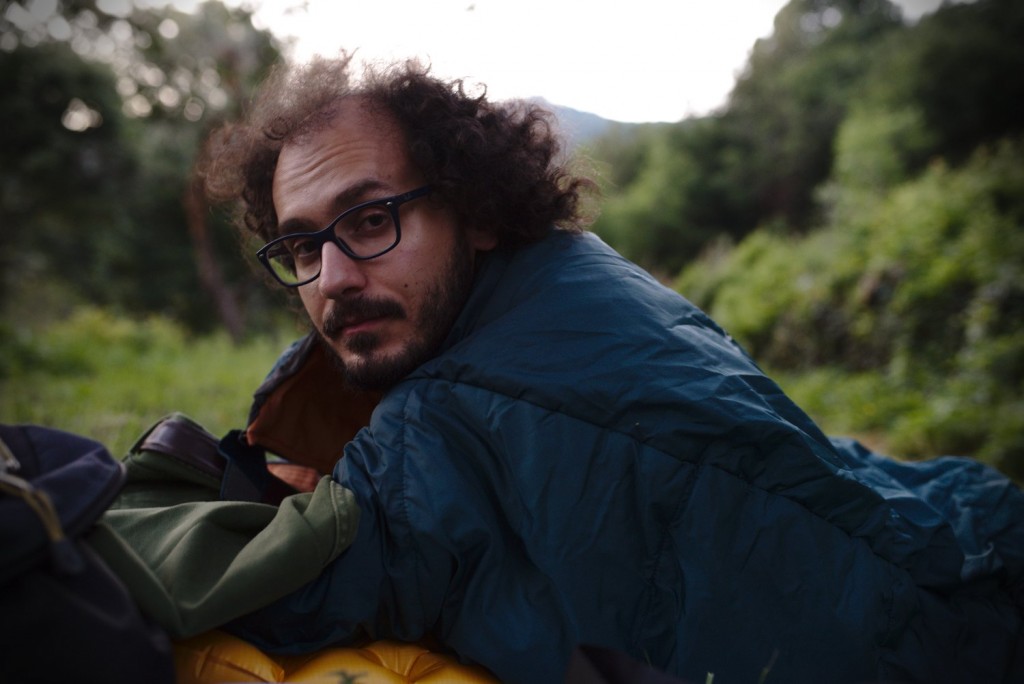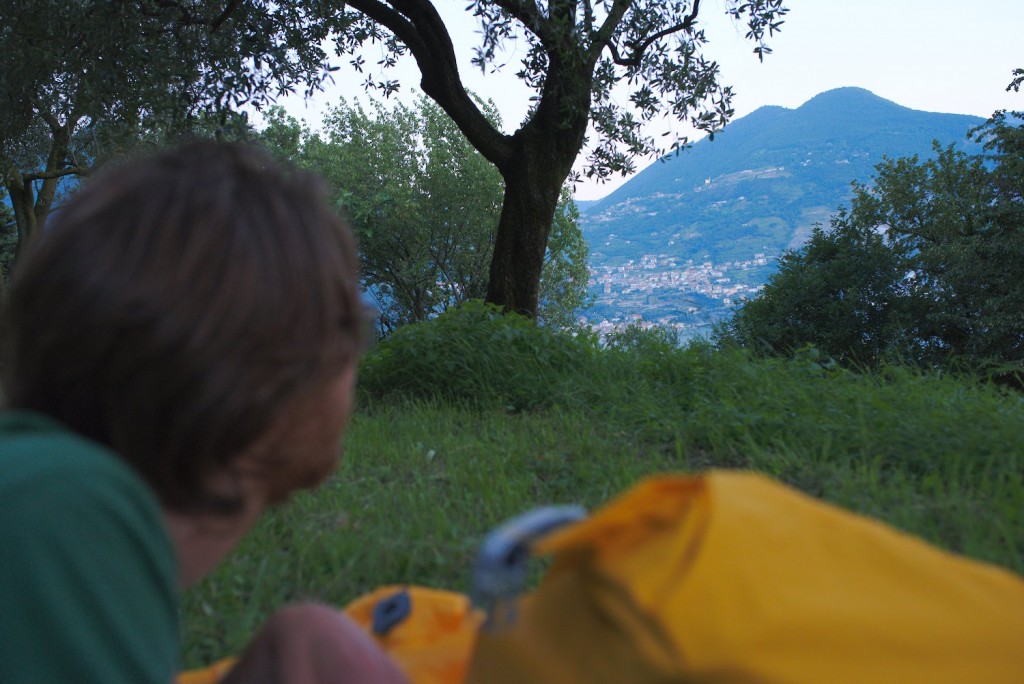 We were a little bit asleep, so a refreshing jump in the lake seemed a good idea, and surprisingly we were not alone! (If you like wild swimming and you are visiting Italy checkout my book Wild Swimming Italy you'll find several beach on Monte Isola, Lake Iseo and much more ).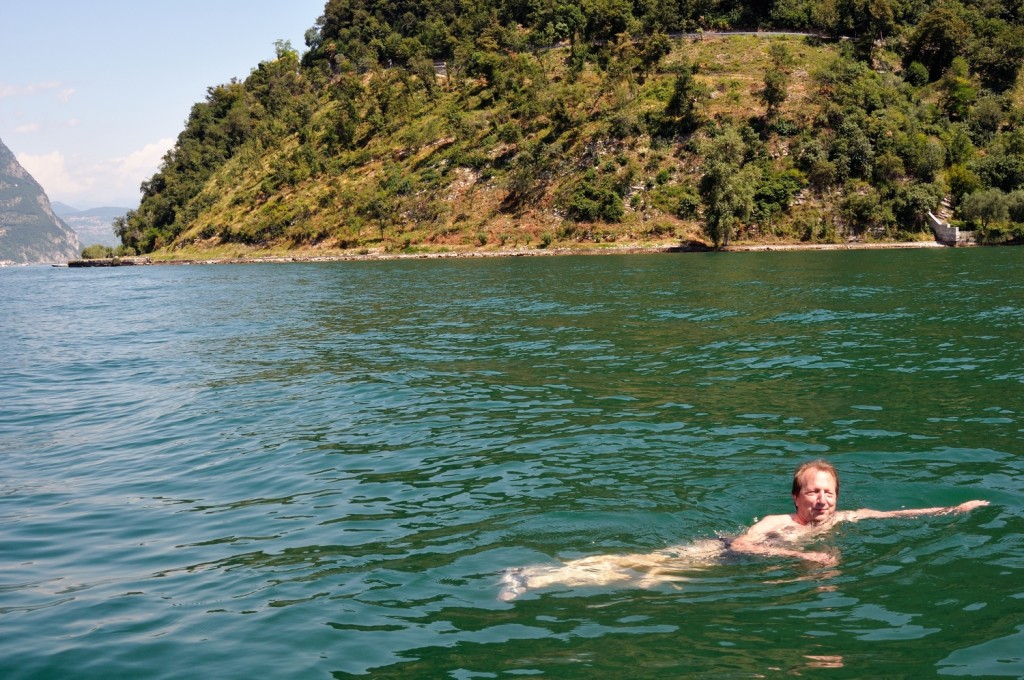 The piers is fascinating at night but in the light of early morning the yellow fabric seems constantly changing colors and reflection, and we were able to get and feel all the magic that the artist was able to bring here.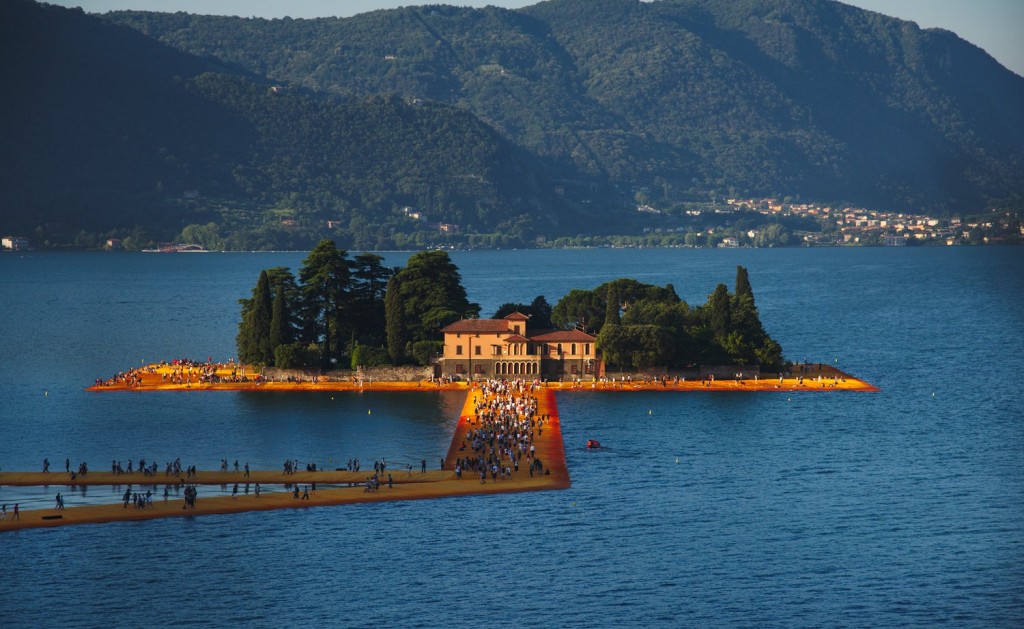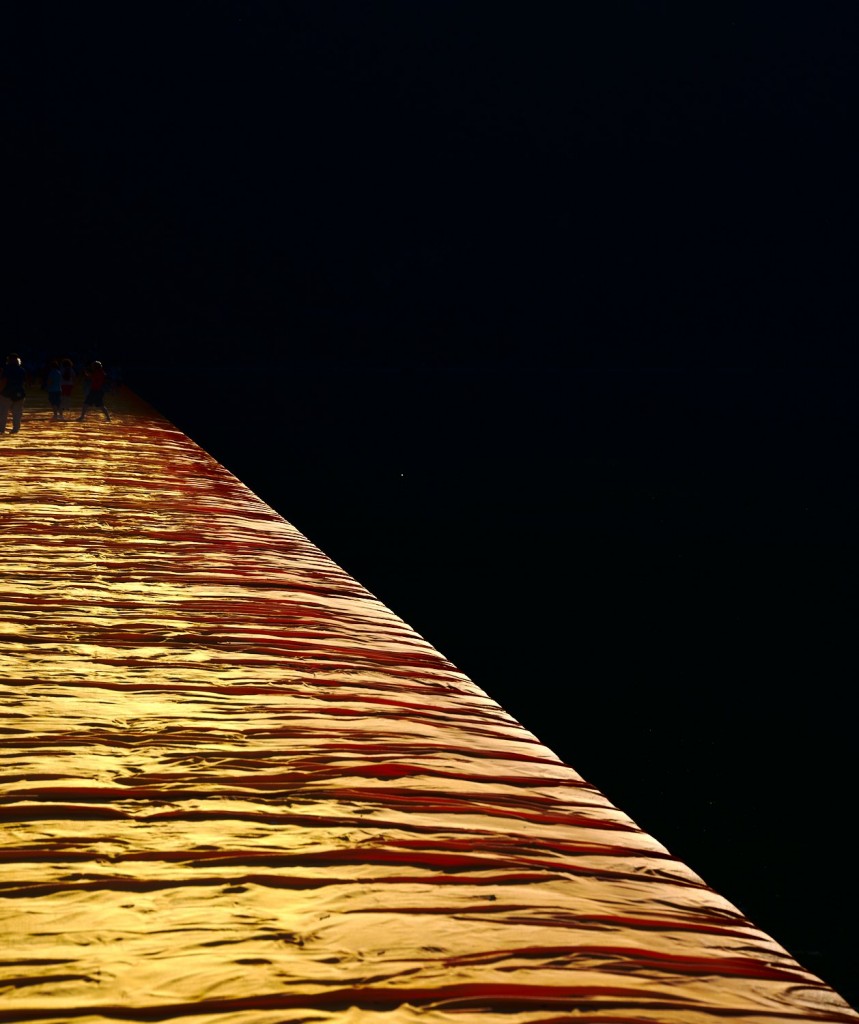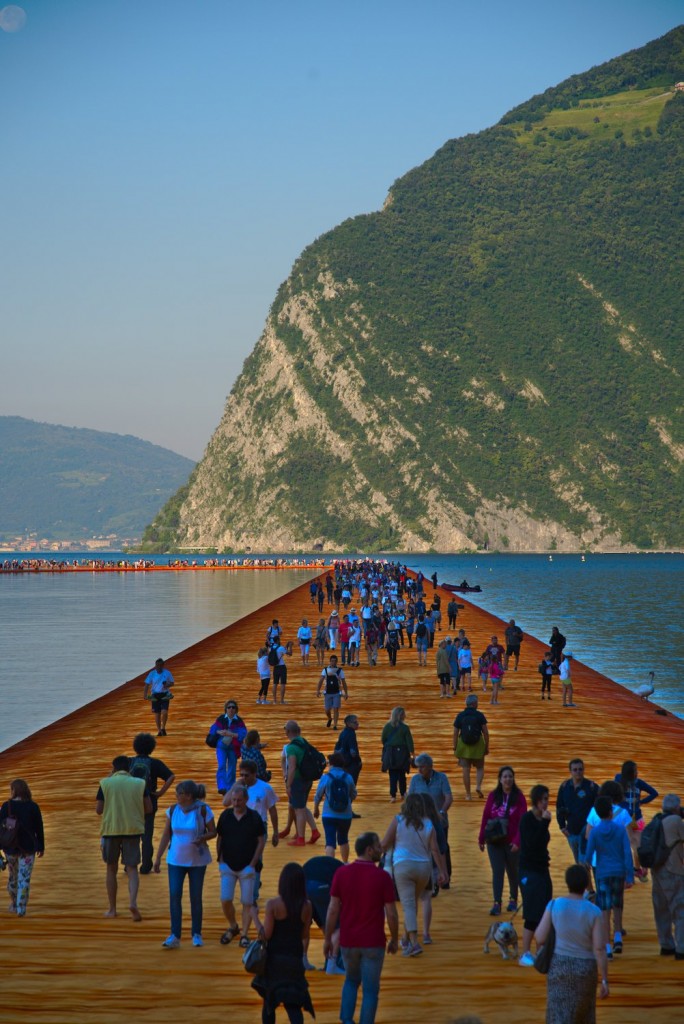 After we walked around Isola di San Paolo a couple of time and then reached Sulzano,  we jumped on the first train to Brescia.
A  brief shower at home and we were in the office, tired but refreshed from a great small and cheap adventure! Even Alessio enjoyed it!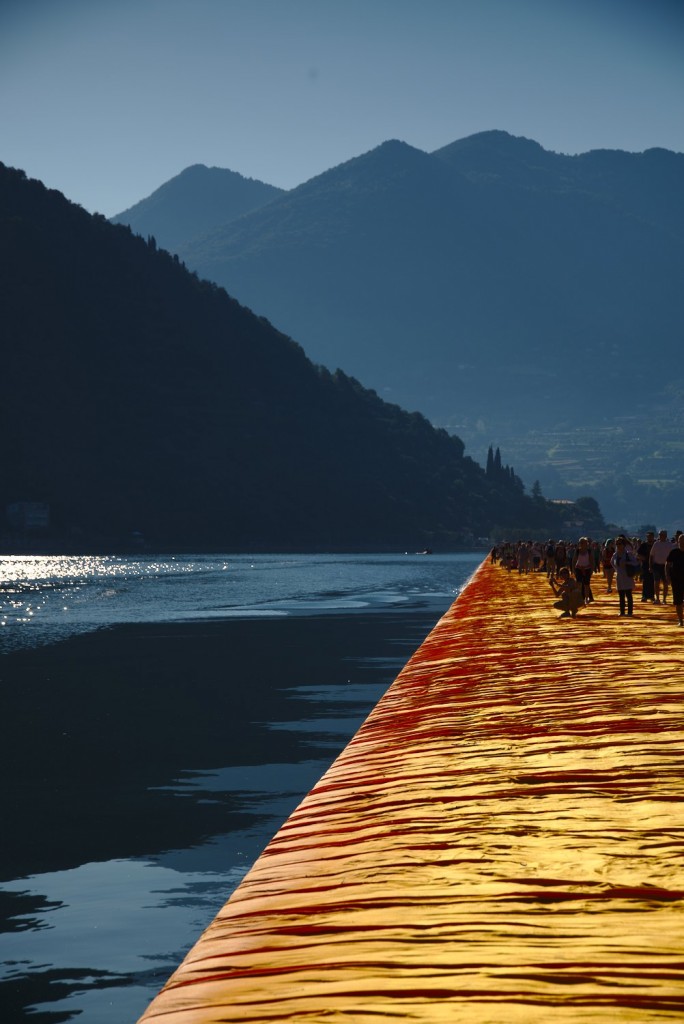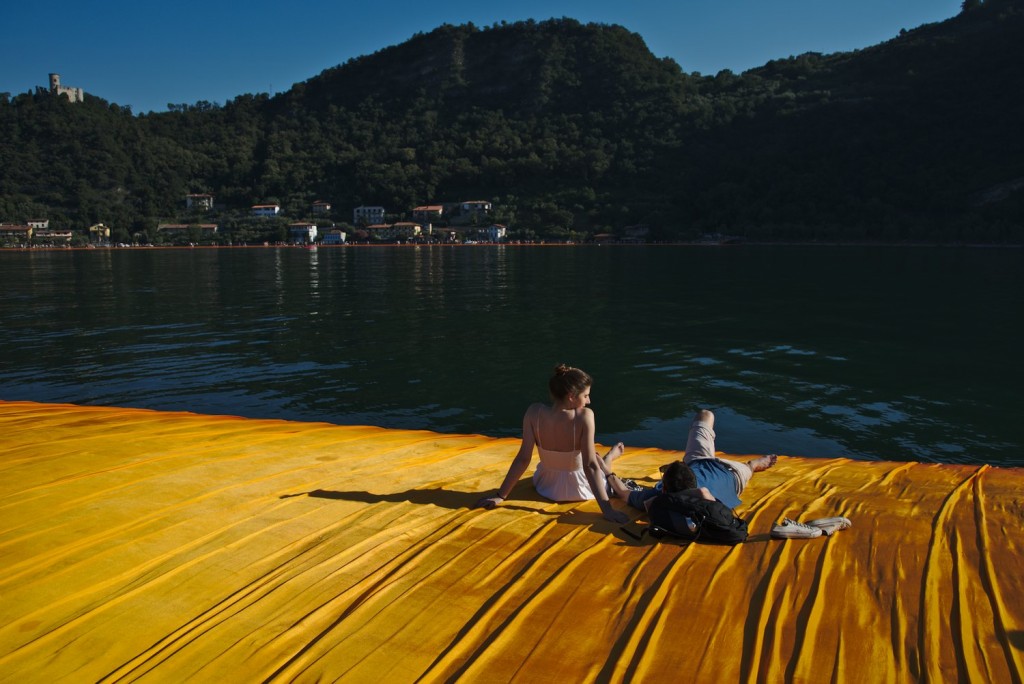 Thankyou Mr. Alastair Humphreys for inspiration, Alessio to join me and remember to checkout my book Wild Swimming Italy if you want to refresh yourself after a hot day in Italy!